Want to gain the business skills before launching a real business? Business learning games help you improve your skills needed to start and run any business. A successful startup requires and development requires strategic, entrepreneurial, business development, production operations management, time management, stress management, financial, mathematical, money management, and managerial skills. These educational games will help you improve these skills in a fun way.
Either you are dreaming of owning your own business or want to improve your skills manage the business at work, business simulation games help you achieve the goal. Business games help you build your skills and knowledge and have fun while you learn. Business games feature a variety of gameplay mechanics. Some allow you to build and manage a business while others allow grow the existing business. But keep in mind that Practice Makes Perfect.
Educational and Business Learning Games
Entrepreneurship Games
Learn to think like a successful entrepreneur in a short game. Engaging characters bring the BlueSky Ventures world to life, giving you a chance to learn in a whole new way. This interactive course is self-contained and will teach you all the skills you need to know.
What you'll learn
A FREE, on demand interactive Wharton course
An engaging business simulation combined with video lectures & personal feedback
Frameworks for analyzing business strategy
Techniques that drive business success
Sandwich Baker is a fun and challenging tycoon game and online entrepreneurship activity for kids and high school teens. Playable on Android mobile phone, Android tablet, notebook, laptop and desktop, this quick-paced, interactive, fat food / customer service exercise requires alertness, a positive attitude, high energy, and sharp reactions.
If you've ever wanted to live the life of a YouTuber, Vloggers Life Tycoon is the perfect game for you. As you travel, shoot videos for your channel. Promote your content to get more views. There are many improvements and modifications for your channel, so be careful to spend your money on the items that will aid you in achieving your goal.
One of the few entertaining and highly instructive role-playing games is tractor farming simulation, which helps students in middle and high schools build their entrepreneurial thinking abilities. Your goal in this strategy/farm management simulation game is to start from scratch and expand your agricultural business by giving it the essential tractor maintenance.
The game's goal is to simulate what it's like to be a full-fledged farmer with a farm of your own and animals that require immediate care. Use the tractor as your main character in this game and complete all the objectives. Keep an eye on your fuel level in the top left corner of the screen due to the size of these tractors and their heavy fuel consumption.
You are awaiting money and power in plenty. You can build an empire with Corporate Overlord where you can explore all kinds of strange technologies and make as much money as you desire.
The aim of the game is to create the largest corporation in order to generate revenue and fund research. A new floor is added to your building with each construction project you undertake after naming your corporation. You must construct multiple of the same types in order to access better ones because the more complicated the room, the more prerequisites it requires. You can invest in new technology after doing research on them to increase your income. Start constructing your business empire.
As you create and oversee a dining and shopping district in Shopping Mall Tycoon, you can manage your own commercial empire. As you continue to build the strip to draw in as many customers as you can with burger and ice cream restaurants to fruit markets and clothes businesses, you can become the buzz of the town. Your income will increase and your empire will expand more quickly the more people that stop by. Watch the coins come in while you unwind and recline.
Manage an underfunded farm in the online game and business strategy simulation Kisan Smart Farmer, which is intended for high school pupils and college students. This is a remarkable online role-playing game that provides you with a startling, first-hand understanding of the struggles and difficulties experienced by farmers. Enjoy!
The objective of the game is to simulate life as an accomplished farmer with a large amount of land to cultivate. You have to finish numerous jobs including planting, watering, and harvesting! You have a lot to do, so this will put your agricultural knowledge and organisational abilities to the test. Can you complete it to the best of your ability?
Do you possess the abilities necessary to succeed in the intensely cutthroat industry of real estate and property sales? For kids and teens, Real Estate Tycoon is a hard business strategy simulation game where you must speculate, build a constantly shifting property portfolio, and flip real estate (buy and sell homes) in order to generate money. As a real estate tycoon, you get first dibs on all the brand-new structures in your neighbourhood. To sell your assets at the ideal time and maximise profits, move quickly but calmly.
Depending on the game mode, the objective is to maximise your profit while staying within the time limit. This entertaining and educational tycoon game should improve your multitasking skills, offer you an understanding of the severe pressures in the real estate market, and assess how effectively you handle those challenges. Do you believe you possess the composure, business acumen, and money management abilities necessary to land your ideal real estate position? In this game, the ability to detect a deal is invaluable! Invest wisely and prosper, please!
Idle Farm is a very creative and astute farming simulator with a pinball component. Yes, you read that right—this game combines pinball and farming. It is unlike anything else you have ever seen, and it is also wonderfully bright and joyful. One of the numerous factors that will keep you playing this game repeatedly is that.
In the resource management game Tiny Town, you have to start from scratch and manage resources like food, cash, and people to keep the city growing. Build new structures and renovate existing ones to gain access to more sophisticated resources and keep your colony's infrastructure evolving.
The World of Cents involves choosing your builder and a level and then building a project such as a rocket ship or a playground.
Business Management Games
Undoubtedly, one of the greatest city builders ever created is Anno 1800. This game, which takes place in nineteenth-century Western Europe, begins with beautiful farmsteads in the countryside and concludes with the massive railroads and smoky factories of modern industrial business. For those who have played Anno before, the early going can feel unduly familiar, but once you've gone full industrial revolution, it really comes into its own. It's time to move on to the next island now that the first one is operating smoothly because each one has its own population, resources, and labour needs. With ships travelling back and forth throughout the earth, colonies will soon be established all over the world.
Aren't fish magical creatures? Anything that can survive underwater is astounding, therefore it stands to reason that the best thing to do with them is to keep them in small fish jails so you can lustfully admire their adorable, gormless faces forever. The goal of the game Megaquariam is to manage an aquarium, from selecting the best employees to making sure your tanks are as good as they can be for your aquatic buddies. While some fish are bullies, others are completely capable of coexisting peacefully. Others may prefer pebbles or plants, but most of the time they just want some food that is kept at the right temperature and isn't knocked over.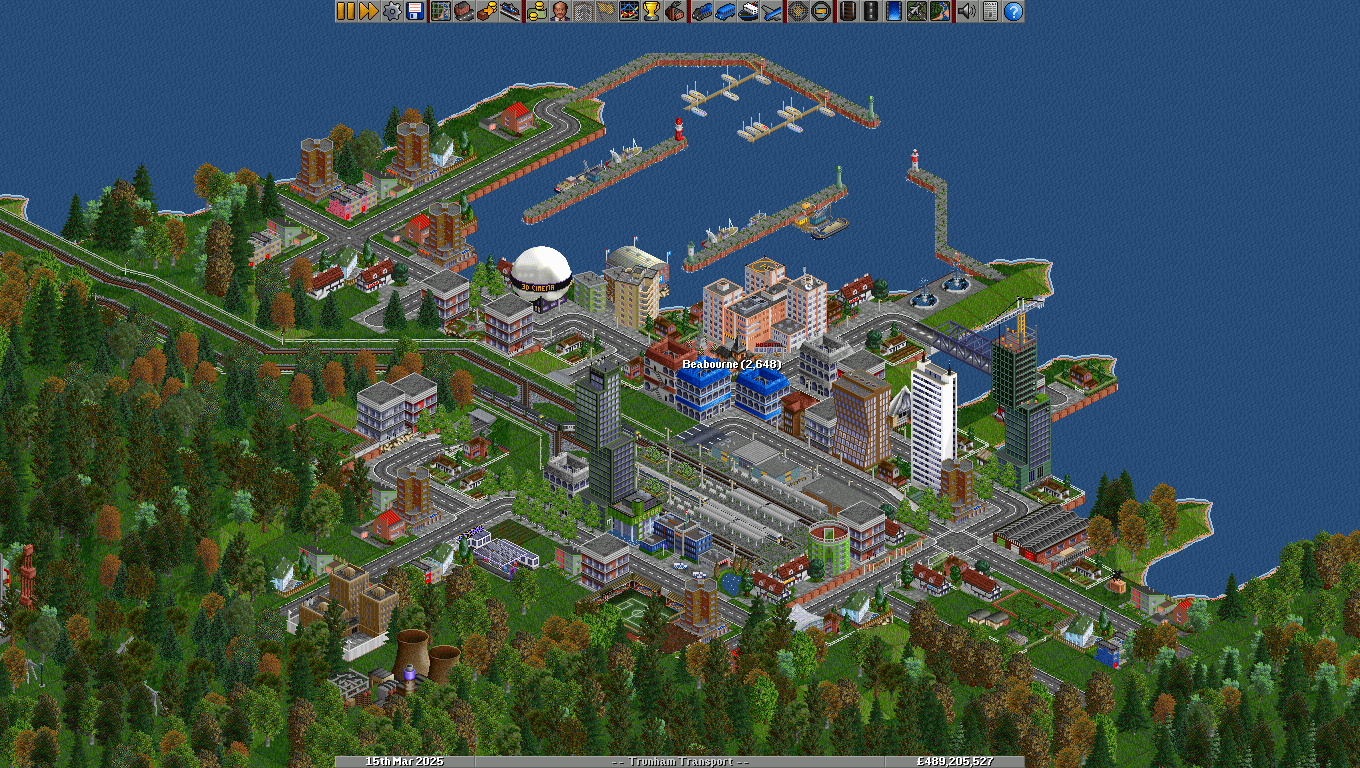 OpenTTD, a fan-made update of Chris Sawyer's 1994 original Transport Tycoon Deluxe, adds new map sizes as well as LAN and internet multiplayer that accommodates up to 255 players. Despite the game's industrial heart, the isometric rural and urban landscapes are nonetheless incredibly serene in OpenTTD; communities resemble picture-postcard towns and villages rather than smoggy recreations of Dickens' Coketown. A level 1 Squire becoming a level 50 Demigod is gratifying, but nothing compares to watching the terrain change in step with your goals.
There are numerous types of business management games, but few provide the same level of mild obstacles and instantly recognisable settings as this one. Transporting people and products may seem like a mundane job, especially when it coexists with future wars and theme parks, but the game's appeal comes from how familiar the concepts are.
Frostpunk is interested in severely restricting your options, to the point where you regularly have to make heartbreaking choices about what you must give up in order to obtain or correct anything else.
You are responsible with maintaining the survival of a small group of malnourished, shivering survivors from a new ice age in this steampunk post-apocalypse setting. There aren't many resources, and anyone who doesn't live close to the heat generators that provide for their survival won't live very long. Disease is unavoidable. But in order to keep everyone else alive, you need the employees to bring in food and fuel. Do you amputate or do you let the sick heal? What about youngsters? Or is having a childhood more significant than having more hands on deck?
Frostpunk is management at the cutting edge, where practically every choice you make and structure you develop carries a significant risk. It can be learned over time, but in the meantime, it is horrific, desperate, and a clever inversion of the traditional race-to-the-top strategy.
Throw a rock in the air and start playing whichever Tropico game it lands on; they're all excellent times and have the same basic premise: you're the comedic dictator trying to turn a poor island nation into a land of tourism and trade while maintaining at least a modicum of authoritarian rule.
Many of the intricacies of, instance, a Sim City are left out; there is no real need to worry about powerlines or water supply; instead, you just go about putting structures down with the dual objectives of making everything appear lively and lovely and making ever-more filthy lucre.
This is more of a toy box to dig through than a tactical puzzle, but it contains a hidden layer of little moral quandaries that keep you interested. Examples include driving out or killing troublemakers, paying off demonstrators, putting off environmental concerns, rigging elections, or sheltering people in peril. Or you may keep going, act morally, and trust that all will work out in the end.
By spreading your most recent empire across a full archipelago of islands, Tropico 6 finally injects some much-needed spice into this most conventional of management games, changing your customary objective of expansion for the sake of expansion to something you're actively working towards.
Planet Coaster, the rightful heir to the Rollercoaster Tycoon series, is a theme park management game with a special emphasis on developing (and, more importantly, riding) increasingly complex and/or impractical rollercoasters. The Steam Workshop support, where you may import or post both amazing and horrific projects, is the real star of the show. In Planet Coaster, people have created some incredible structures, and riding them is a real thrill in this era of enormous monitors.
Even if you don't like borrowing from or sharing with others, Planet Coaster focuses considerably more on making your own things than it does on setting up prefabs. Not the accountant's management game, this one belongs to the designer. Its construction tools are incredibly easy to use, and you can quickly get substantial results using them. However, maintaining your visitors' satisfaction and keeping the bank account full is still an essential aspect of the game, so you'll also need all the ancillary theme park money-rinsers like cafes and gift shops. After all, people will come if you build it.
Although it is a busy hospital management simulation, Two Point Hospital is also incredibly enjoyable. When you eventually have a little window of reprieve, you grow, produce new issues, address those issues, and then get to enjoy seeing the machine run as well as it ever will. The game's jovial radio jazz will then abruptly change into a mocking dirge that chuckles at your attempts to maintain control as it launches a helicopter load of patients who are sure they are Freddie Mercury at you.
Initially, Two Point Hospital is a business simulation. It's about surviving, whether that means swindling your patients or establishing yourself as the top hospital in the area.
Though, failure can sometimes be just as enjoyable. You can almost always figure out what the problem is with a few clicks since it strikes a balance between visual disorder and practical, helpful interfaces. Both colourful and compulsive describe it. Even while it significantly enhances and expands on so many features, it honours the history of Bullfrog (the designers of Theme Hospital's spiritual precursor). Want some light social commentary on how public services operate like machines, putting patient well-being second to efficiency? It has that! Want some gold-plated toilets and DLC that lets you use a Yeti to save Christmas? That's also there.
Production Operations Games
For older children, teens, and college students, Ship Manufacturing Tycoon is an extraordinarily comprehensive, interactive business management simulation game in which you assume the role of a savvy ship factory owner. You live off of making and selling ships. So grab your briefcase and spanner, and let's get to work! Building and selling ships is the objective of this game! Try to make a living off of this by producing a lot of ships at your factory! For this game, you'll need an entrepreneurial mindset and the mindset of a cunning businessperson. Simple expenditures to sell, speculate, and accumulate are the topics at hand.
Fast Menu: Have you ever desired a chance to show off your abilities to satisfy picky, ravenous customers? You may now in this exciting, engaging game. You must prepare the ingredients for the clients' meals before serving them. They won't be pleased if you get it wrong. Are you able to handle the pressure given that you are also up against the clock?
Before the timer expires, give the customers their food. The clients don't like to wait, so you'll need to quickly identify the ingredients they'll need for their lunch in this unique and amusing skill game! Additionally, you'll need keen observational abilities and an eagle eye because the clients all have similar orders but differing ingredient needs!
Shapez io is an excellent management and production-style game that even experienced engineers would want to play. You will be in charge of building a far-off mining and industrial facility in the Shapez.io game. It will be your responsibility to gather alloys of various forms, build conveyor belts to gather resources, and set up paint stations to recolor them. However, Shapez.io is also there to test your capacity to strategize and think in order to develop original delivery strategies that are as effective as possible. A long weekend is the ideal time to unwind with Shapez.io!
There are numerous cooking video games available, but few can compare to the quality and thrill that Dream Chefs offers. You will assist Winnie, an aspiring new chef, in Aim Chefs by assisting her with the preparation, cooking, and serving of each customer as they arrive. Winnie's dream is to create and run her very own restaurant.
In this idle farming game, expand your sky farm empire and become a high-tech billionaire. Grow ginseng, carrots, tomatoes, lettuce, strawberries, melons, mint, lavender, and even ginseng in the sky! Future has arrived. Upgrade your operations using the coins. Employ knowledgeable managers to automate your work. Create new sky farms that are elevated. With the help of your food empire, make money while you sleep. Bring in investors for your sky farm enterprise company and cash in on huge profits.
Business Development Games
In the video game Tap for Money Restaurant, you take on the role of a tycoon intent on amassing as much wealth as you can. By upgrading your structures to the greatest avaricious level you can manage, you can assist your boss make money. Then, sit back and watch the money come in. Employ some lackeys to ensure that you receive your fair share (and more money), and make sure to employ some employees who will handle the actual labour at your hotels and restaurants. How about when you're bored? Why not just go ahead and purchase a new city for yourself? Who's going to stop you when you have literally quadrillions in your bank account?
Prepare yourself for a multi-tasking, airport business management challenge! In the challenging online simulation game Merge and Fly, you take on the role of an airport that wants to make money by letting planes fly about on its runway. The more planes that are flying and moving, the more money you can make. You must acquire planes and maintain them flying.
In this game, your goal is to use the planes you have available to earn as much money as you can. You need more planes flying faster in order to make more money. You can upgrade a plane by clicking and dragging it onto another one. In order to succeed in this instructive decision-making exercise for older kids, teens, and college students, you'll need to have sound knowledge of money management and astute business judgement. Since money is limited, choosing the finest plane, best upgrade, and best timing to buy are all crucial to achieving your goals. Consider yourself a successful airport manager. Let's investigate.
This is Mathai's Tea Shop, welcome. You have to serve a number of customers their meals on time and make them happy in this entertaining restaurant game and food service business management learning exercise for kids, teens, and big kids if you want your restaurant to become a well-known, thriving success. This lively and colourful food game needs quick thinking, a good outlook, and lightning-quick table service abilities!
Now that you are in charge of Mathai's Tea Shop, it is your responsibility to keep the clientele satisfied and motivated to return. Your ability to manage multiple tasks at once, much as in a real store, will be put to the test in this game.
Pocket Tower let you manage your very own skyscraper, taking on the role and responsibility as its owner and manager. Turn your skyscraper into a success by opening new businesses and shops with it, attracting both customers and promising employees. Earn wealth to expand and grow your building, adding more and more floors as you grow. Pocket Tower is a simple and casual game that you can relax with by the end of the day. Offering you enough features to keep you playing and entertained, but not too many so as to discourage you. Load up Pocket Tower and relax as you take your building iBusineGames.
A busy restaurateur and businessman establishes a chic restaurant in this hectic simulation game about a restaurant. This is a fast-paced, interactive business simulation game for elementary school students to high school students where you can expand your restaurant's number of levels and recruit managers for each restaurant and elevator to increase revenue.
To command the waiters to fetch food from the head chef and subsequently deliver it to customers, click on them. Every order that is delivered brings in money. You can use the money to hire management; it is displayed at the top of the screen. Faster business is made possible by managers; for example, an upgrade (green shoe) might make waiters work more quickly.
The challenging world of office job and needing to manage a successful firm are both thrust upon you immediately by Boss Business Inc. Hire staff to expand your company and increase earnings, yet this is easier said than done because nothing worthwhile comes easily. As your company grows, it will become more difficult to manage, maintain profitability, pay all of your staff, and keep them satisfied. Unhappy employees can cause significant disruption and harm. Try to run a profitable business for as many days as you can; engage your friends to see if they can surpass your record.
In this game, Food Avenue, you're trying to build a food empire on, well, Food Avenue. You start off with a bakery, which you can upgrade and get then buy some recipes for. Once you've saved up you can start expanding into restaurants or ice cream shops. Each brings new recipes and, of course, new customers.
You are in charge of overseeing a construction enterprise in the fantastic city and production management game known as Building Rush. As the business's manager in Building Rush, your responsibilities will include managing the company's finances, meeting orders for building supplies on schedule, hiring extra trucks to speed up delivery, and, most importantly, turning a profit. Making thoughtful selections while occasionally taking a chance is the key to success in Building Rush!
You may feel the thrill of owning your very own sizable tech company with Idle Startup Tycoon, an idle simulation game that removes all the stress associated with running such a business. Idle Startup Tycoon requires you to oversee all of the significant employment and investment processes, but you won't need to worry about the little things. Yes, just like in other idle games, even if you are offline or not online, your employees will continue to generate income. The fact that Idle Startup Tycoon doesn't always require your whole concentration makes it considerably more enjoyable.
You may manage your very own mediaeval inn with Tavern Master and serve your guests bread, wine, beer, and other tasty fare. Employing waiters, chefs, and bartenders will enable you to provide the services necessary to satisfy your customers and run a profitable business. Make improvements to your tavern, restock your inventory, pay staff, and purchase new accents and furnishings with your profits. More customers will frequent your business as it gets better, increasing income.
My Burger Biz is an entertaining simulation game for managing a cafe or diner that's also helpful for aspiring entrepreneurs. Build a burger joint, develop your menu, and execute a smart marketing plan. As you grow, make real estate investments in more populated areas where you may attract more clients to boost your profitability.
Try out various tactics in combination to find the secret to boosting sales. Keep an eye on your supply because operating a burger restaurant is pointless if you don't have any burgers. You should also advertise your establishment to attract customers and determine which burger recipe the general public enjoys. Determine how much you can charge clients before they start complaining about the pricing because doing so will let you make money.
You'll be sucked into the hotel management game Habbo Clicker in no time. This is a game you won't put down easily because there are so many different ways to play it and so many different strategies for managing your hotel.
The game calls for talent and maybe even some guidance. It involves more than just blindly pressing buttons. No, if you truly want to succeed, you must give careful consideration and effort to every action. But that is one of the things that makes the game so enjoyable. It has the feel of a rich, intricate, and challenging game. Success is all the more rewarding because it requires time and effort.
Stress Management / Time Management Games
Penguin Cafe is a cute little restaurant simulation game where you take on the role of a penguin and have to rapidly serve some hungry and demanding penguins (your diner's customers) by using your professional table-waiting, customer-service, and business management skills. In order to ensure that you make the necessary daily sum of money to maintain your business profitable, you must seat the clients, take their orders, serve their snacks promptly, and collect the payments & tips. The goal of this game is to run your own Penguin cafe successfully! You make the decision to open your own premium cafe with top-notch service and lightning-quick table waiting methods. Keep them satisfied, keep them spending, and keep them returning for more.
You're working as a waiter at the hot and fun Beach Bar, serving delicious cocktails and trying to keep your customers happy! At the Beach Bar, things are always busy! Customers are waiting to get served and you have to make sure they get a seat, get a cocktail and get a bill before you can clean the table and seat the next batch of thirsty vacationers. Although it seems pretty simple, this bar can get busy fast, and you have to make sure your customers leave with a happy smile on their faces, or your boss is not going to be happy. So get moving and serve those drinks!
You feed each and every customer at your little holiday shop in the snow in the fun and cheery cooking game Emily's Christmas Carol! Bring some holiday cheer to the table with this entertaining, captivating game, which you might play for hours!
The objective of the game is to feed the hungry customers at your small shop. You will need to prepare and serve the various meals that they will request. Because there will be a lot of clients waiting in line, this game requires great pressure-management skills because you cannot keep them waiting for too long. It's also important to have good hand-eye coordination to strike the proper ingredients.
Do you possess the necessary qualities to run a first-rate, exceptional Burger King restaurant? The question is at the centre of Burger Chef, a game that assesses your ability to sling burgers with the best of them.
You will be behind the counter while customers ask for speciality meals as they come up to the counter. If you don't serve the meal in the right order, your visitors will become agitated and hungry.
Dining simulation The game Virtual Families: Cook Off is enjoyable. You'll need to get the food the guests will need to keep happy ready before their patience runs out. The pleased they are, the more generously they'll tip you, and you can use the coins to buy upgrades like new food options or themes!
Some foods are difficult to watch; while it's a good idea to leave burgers on the stove to cook, they could also easily overcook! Balance all the different time constraints in order to stay ahead of the game and finish the stages. Once you've completed enough levels, you can unlock even more personalised options by earning recommendation letters.
Help Penny the penguin run and make her brand-new arctic restaurant a success in Penguin Diner 2. You can purchase more décor, better chefs, and faster ice skates to help Penny finish orders more rapidly using the tips you earn by helping her seat, serve, and feed all of her customers. Thanks to its adorable aesthetic and fun gameplay, Penguin Diner 2 is a great game to play for everyone.
In the exciting, fast-paced casual game Open Restaurant, you run tables, serve meals, and take care of guests in your own restaurant. To advance to the next level, get the money! You can maximise your money by selecting the ideal table and time to act. Show that you have a knack for managing your time.
In Yummy Hotdog, you may manage your own hot dog stand, handle upkeep, and create the recipes to start chowing down on delectable fast food! You'll perform a range of activities, such as chopping the meat into tiny pieces and replacing the food processor's fuse. You can get the maximum three stars on each level by finishing tasks in the allotted time!
Cooking Fast 2 Donuts is the ideal game for you if you've ever wanted to open your own cafe or donut store. As you race against the clock, prepare mouthwatering treats for your customers, such as smoothies and savoury doughnuts. Whether it's a burning dinner or a grumpy customer, learn how to manage both at once in this entertaining management game.
The customer's satisfaction is what matters most, therefore don't make them wait too long or they'll go to another store. While serving numerous customers at once, remember not to leave the stove on or you'll face more issues than just a displeased client.
In the entertaining simulation game Burger Shop, you get to own a fast-food restaurant and manufacture hamburgers for a job. It's a role-playing game where you take on the role of a busy chef who must serve hungry, frazzled clients. If they are waiting for an order, they appear out of nowhere, and the mood becomes intense! To succeed, you must be at your best. Enjoy!
Making sure that every customer receives their burgers on schedule, to a high standard, and error-free is the goal of this culinary game. You will get a taste of running your own kitchen because of this, so you must be vigilant, quick, and extremely effective. Do these abilities fit you? Play with us to find out!
In this hectic tycoon game with a customer service theme, you run a beachside food stand where you must quickly serve hungry clients and generate sales. Beach Restaurant is a quick-paced, interactive, food business simulation game (for elementary students through high school teens) that can be played on a mobile device, tablet, laptop, notebook, and desktop PC. In this game, you must serve up healthy snacks and drinks to eager customers from a hectic beach vendor hut! As a solo proprietor, you must run around the shop quickly filling orders from customers by clicking or tapping on the appropriate things in the right order. The more virtual bonus money you get, the quicker you complete the deal!
The majority of web browsers for PCs and Macs, as well as iOS and Android devices, should be able to play this online, HTML5-based, customer service/tycoon-themed game. You might need to tilt your device horizontally in order to play the game in full screen. A mix of talents, such as awareness, focus, quick thinking, highly-accurate mouse clicking or finger tapping (depending on the device you are using to play the game on), extreme discipline, perseverance, and stamina, are needed. The goal of the game is undoubtedly to provide prompt, effective, and friendly customer service, therefore you must maintain a near-perfect level of focus and optimism at all times.
Play a point-and-click or tap-screen game about pizza delivery: In Pizza Party, you quickly dispense delectable pizzas to customers that are ravenous and eager and have extremely specific tastes! This is a quick-paced, interactive simulation game of customer service and restaurant management.
As you add ingredients on your pizzas as quickly as you can, demonstrate extreme levels of concentration and discipline as well as quick and accurate clicking or tapping skills. Customers will leave in a huff if you serve them a pizza that isn't exactly how they like it or take too long to finish creating it, which is bad for business.
Similar to working in a real-world customer service position, you must learn to pay attention and listen.
You'll need to stay alert while playing the role-playing restaurant simulation game Cooking Fast 4 Steak! You may learn more about becoming a chef by playing this entertaining game. Can you function in this demanding work environment? A restaurant is a serious business. You don't want to mislead any of your clients. Nevertheless, time is money!
The objective of this game is to keep the patrons that visit your restaurant pleased. They must receive the steak quickly so they don't have to wait too long. Because there will be numerous clients waiting at once, this game will help you improve your ability to maintain composure under pressure.
Money and Math Games
This is, in fact, not a game but a tool to check if you can start your life without financial support from anyone.
Imagine that you've graduated from high school and you are ready to step out on your own. Answer these questions to see how prepared you are to support yourself.
Visa and the National Football League have teamed up to create Financial Football, a fast-paced, interactive game that engages students while teaching them personal finance skills. The latest release features 3D graphics and game-changing opportunities with audibles, blitzes and long yardage plays. The game is available to play for free through iOS and Android apps and online.
Practice algebraic expressions with multiplication and addition by playing this fishing game.
Test your financial skills by playing this game that involves answering multiple-choice questions. As you answer questions correctly, you will advance down the field to score.
Memory puzzles are some of the first games young children play. Put the scrambled pieces of the puzzle back together to complete the image of a dollar bill in Visa's Cash Puzzler game. Choose between 1, 5, 10, 20, 50 and 100 dollar bill puzzles and learn fun facts about Benjamin Franklin, Ulysses S. Grant and more.